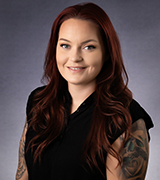 Samantha Taylor
Samantha Taylor was born in Hobbs, NM and raised in Trinidad, CO where she graduated from Primero JR. SR. High, at the top of her class. During her years in high school she ran track, played basketball, and was even a cheerleader, all while working two jobs and helping her single mother raise her little brother. In 2012 Samantha married her high school sweetheart, David Taylor, and just recently celebrated their 7-year wedding anniversary and 14 years together. In their spare time they love to travel and attend motorcycle rallies and most recently started racing go-karts as a family activity.
Shortly after getting married Samantha and David were relocated to Midland, TX for David's career in the oilfield. While in Midland Samantha found her passion for sales, as she spent 4 years working as a sales manager. After leaving her job as a sales manager she worked as a teller for a short period of time before finally deciding to dive in headfirst and take the first step into the exciting world of Real Estate.
While completing her required courses, Samantha and David became guardians of a 15-year-old male relative. Not only was there a new career on the horizon but also parenthood, giving her a new motivation. Although busier than ever, Samantha finished her courses and jump started her new career as a Real Estate Agent at Legacy Real Estate. Whether buying or selling, customer service and satisfaction is always her number one priority for her clients. Samantha loves nothing more than helping clients turn their dreams into a reality.
Samantha Taylor
Realtor Associate
432-999-0699
staylor@legacyrealestate.com