Tracy Farrow
I am a Midland girl to the core! I was raised in Midland and went to Fannin Elementary, Goddard Jr. High and Midland High School. I played basketball, volleyball, and was a cheerleader. Later, I attended Lubbock Christian University and graduated with a BS in Education and a minor in Speech Communication.
My husband of over 30 years, Coby Farrow, is a homebuilder and owns CTC HOMES AND CONSTRUCTION. I truly married my best friend! Coby and I are proud supporters of the Midland County Stock Show Association and also raise and sell sheep. We enjoy time with family and friends, and especially traveling together. We have one son, Caden, who is pursuing a degree in finance. Boy, they grow up fast!!
Since starting in real estate I've been awarded Bronze Producer in 2013, Gold Producer in 2015 & 2016, and Platinum Producer 2017-2019 for Legacy Real Estate. I'm in the top 1% of Midland Realtors and was elected Director of the Permian Basin Board of Realtors in 2016. I was named a Who's Who Professional in 2015 and 2016 and am a proud member of the Midland Chamber of Commerce.
I taught elementary school for 24 years and decided to go into real estate in 2012. My husband was my biggest supporter when I decided to pursue a career in real estate. I love helping people find their dream home or sell their current home. You couldn't find a more dependable and trustworthy person. I am there for YOU!
Please give me a call at (432) 413-4412. I would LOVE to help you with ALL your real estate needs! You will be glad you did. Promise!

Here's what Tracy's clients are saying about her: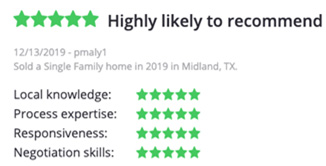 "Tracy and her Team were efficient, competent and effective at marketing our home and qualifying the best buyers for this property. Her local knowledge and contacts were extremely helpful to us and ultimately the buyers. Thanks Tracy!"
"Tracy Farrow is the kindest, most helpful and reliable realtor in Midland. She made our move seamless and a fun process. She has a great team that responds to any questions or needs promptly and professionally. We love our new home, and especially love how easy the closing process was with Tracy by our sides." - 2017 Buyers Taylor & Courtney Hubbard
"My wife and I would like to take this opportunity to say a few words about Tracy Farrow on helping us sell our house. Tracy was hard at work and got us a contract in just under 10 days. I was impressed!! I will definitely recommend Tracy to my friends and family members. When you need someone who you can count on for selling your house. Tracy and her team are the ones to trust. She was very open, professional and knowledgeable in today's real estate market. She was very considerate, flexible in working with our schedule. When I needed to ask a question late in the evening. Tracy never hesitated to quickly answer my questions. We certainly appreciate your hard work." - 2017 Sellers Josh & Roxanne Lujan
Tracy Farrow
Realtor Associate
432-413-4412
tracy@tracyfarrow.com